The Schengen Visa is a European short stay visa that allows its holder to travel throughout the Schengen Area. This type of visa is issued by one of the Schengen States and allows you to visit any of the Schengen countries for a duration of up to 90 days in total within a period of six months.
Schengen Visa Policy
Every citizen of each country that is not part of the Schengen Area and whose country doesn't have a Visa Facilitation Agreement with the EU needs a visa in order to enter any of the member countries.
What Are The Types of Schengen Visas?
A category
The Airport Transit Visa is a visa for citizens of a non-Schengen country who have to enter the airport of a country in the Schengen zone in order to take the plane to their Schengen destination country.
C category – Short-stay visas
Depending on the purpose of your travel the C-category could be either:
Tourist visa
Business visa
Visitor visa
Cultural visa
Medical Treatment Visa
Apply on time
You have to apply and make an appointment at least 15 days before the intended journey, and the earliest six months before.
Fill the Schengen Visa Application form
Complete the application form online carefully and correctly, print it twice and sign it at the end. The form contains questions for basic information such as your name, date of birth, country of birth, passport number and nationality. You will also have to answer questions regarding your trip, such as how long are you planning to stay in each country, where you're staying, etc.
What Does a Schengen Visa Look Like?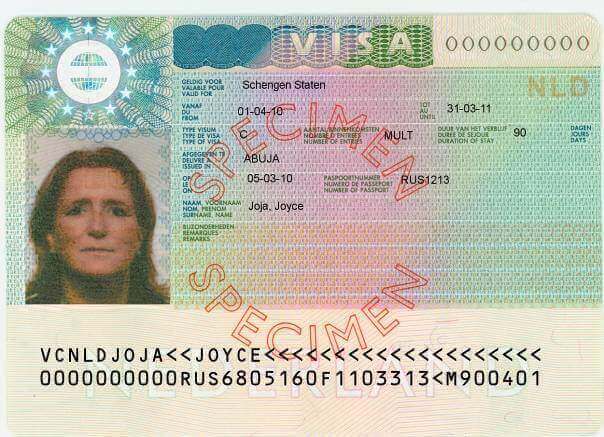 How to Apply for a Schengen Visa?
To have a successful Schengen visa application, you must go through these simple steps:
Find out where to submit the application.
Make sure to apply on time.
Fill the Schengen Visa Application form.
Make an appointment.
Complete the documents file.
Show up at the appointment.
Find out where to submit the application
You should apply for a Schengen Visa at the embassy or consulate of the Schengen country you are planning to visit.
But if you are planning to visit more than one country during the same trip, then you have to apply at the embassy of the country where you plan to spend more time. If you are planning to spend equal time in two or more countries, i.e. five days in France and five days in Germany, then you have to apply at the embassy of the country where you are planning to land first.
Should I Leave my Passport at the Embassy/Consulate During the Application Processing?
Yes, you will need to leave your passport at the consulate of the Schengen country where you apply for a visa. If you withdraw your passport while your application is being processed, your Schengen visa application will be canceled.
Pay the fees
The cost of a Schengen visa application for adults is 80€. Whereas the visa fee for children from the age of six years and below the age of 12 years is 40€.
After you pay the fees, you will be issued a receipt which you have to keep in order to collect your processed application. In the case of visa application rejection, the fee will not get reimbursed. If you apply again for a visa, you will have to pay the fees again.
What Other Countries Can I Visit With a Schengen Visa?
You can visit all Schengen countries with a Schengen visa as all member states of the Schengen zone issue these visas at their embassies or consulates.
Visiting France
Visiting Germany
Visiting Greece
Visiting Iceland
Visiting Italy
Visiting the Netherlands
Visiting Spain
Visiting Switzerland
Also, there is a list of non-Schengen countries that allow you to enter with a valid Schengen visa. They are the following:
Albania
Antigua and Barbuda
Belarus
Bosnia and Herzegovina
Bulgaria
Colombia
Croatia
Cyprus
Georgia
Gibraltar
Kosovo
North Macedonia
Montenegro
Romania
Sao Tome and Principe
Serbia
Turkey
What Documents Do I Need to Present at the Schengen Port of Entry?
You will need to present some additional documents at the Schengen port of entry, aside from your passport with the visa sticker on it. You will also have to provide:
proof of travel insurance,
evidence of financial means, and
proof of accommodation in Europe.
In some countries, you will be asked to present all three of them, in others only one or two. It differs from one to another Schengen country.
How Long Can I Stay In Europe With a Schengen Visa?
You can stay within the whole Schengen territory for 90 days at most, within a period of 6 months.Sometimes they issue you a visa for the amount of time you have sought for, and sometimes for a longer or shorter period, depending on how they see it reasonable.The embassy not only appoints the number of days you can stay in Schengen, but also the earliest date you can enter and the last date when you can leave, which sometimes is confusing for many people.
What if I need to stay in Europe for longer than 90 days?
The European National Visas are granted to individuals coming to one of the Schengen member countries for stays longer than 90 days, like working or studying. In order to be eligible to apply for the D visas for Europe you should be in one of the following categories:
An international student in a program that grants Schengen visas.
International student about to start full-time studies in Europe.
Teacher at a higher education institution or research center in Europe.
Professional traveling to Europe with the purpose of sharing expertise.
Traveler in the Schengen Area who is experiencing an emergency, as a medical condition, that prevents departure at the end of your National Visa.
Can I Get My Schengen Visa Extended?
In order to get your visa extended, you must have a very strong reason behind it as:
Force majeure.
Humanitarian reasons.
Serious personal reasons.
You must show strong proof that you cannot leave the country before the expiration of your visa. If you have stayed in the Schengen area for more than 90 days within six months, then your chances to get your visa extended are almost zero. You have to apply for the visa extension before the expiration of your visa.